100% of author proceeds go to the Thula Thula Rhino Fund!
Find a book in your country
Author Bios
---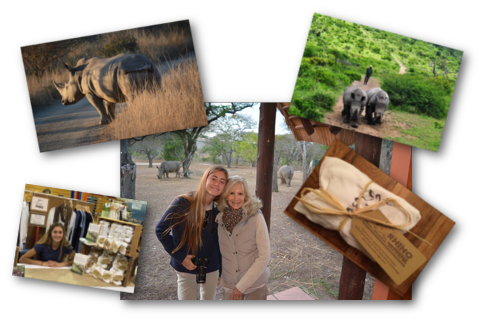 Kelsey Paul
Kelsey, now 18 years old, has graduated from Laguna Beach High School and is now attending college at Chapman University. From an early age she was exposed to different cultures around the world but it wasn't until her first trip to the reserve at Thula Thula in South Africa at the age of 16 that she felt such a strong connection.  With her already busy schedule of studies, volleyball and modeling, Kelsey decided to make awareness of the endangered rhino population a priority.  Her goal is to raise awareness around the world through the telling of her story with hopes that the next generation will feel inspired to make a change.
Jill Paul
With a keen interest in visiting Africa one day, Jill read the book The Elephant Whisperer by Lawrence Anthony and announced to her husband and daughter Kelsey that they were going to the Thula Thula Exclusive Private Game Reserve in South Africa that summer!  The true story of Lawrence and his amazing relationship with a herd of wild elephants was the draw. Their personal experience with the baby rhinos, the growing herd of elephants and the big-hearted team at Thula Thula cemented their decision to return the next summer.   Inspiration for raising awareness and fundraising to protect these special creatures took shape.  Jill and her family are so honored to be part of the important legacy created by Lawrence and carried on today by his wife Francoise at Thula Thula.